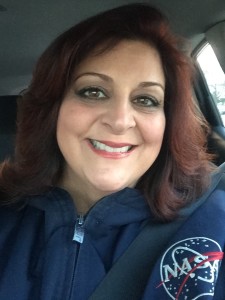 Laura is a science educator and public speaker. She is currently employed as the Principal Park Naturalist for the Department of Parks Bergen County. Laura also provides teacher professional development workshops throughout the year which focus on space and earth science. The Department of Parks is dedicated to Providing quality programming to the residents of Bergen County and strives to inspire students to pursue STEAM careers by providing inquiry based and hands-on science education.
Laura worked in the financial industry from 1986 until May of 2001 when she graduated from Bergen Community College with an Associate in Science degree in General Science. She then went on to earn a Bachelor of Science degree in 2006 from Columbia University focusing her studies in the areas of Environmental Biology, Ecology and Evolution with a concentration on captive polar bear enrichment programs and invasive species.
Laura has been a volunteer at the American Museum of Natural History (AMNH) in New York City since 2000 and serves as an Earth and Space Explainer as well as the stage manager for the AMNH's annual Isaac Asimov debate and monthly Frontier's lectures. She is also contracted by the Museum as a Hayden Planetarium lecturer and provides Family Science programming. Laura was named the 2013 astrophysics department/Hayden Planetarium volunteer of the year.
Laura has been a volunteer with the NASA/JPL Solar System Ambassadors Program since 2003 and began her volunteer service in the NASA/JPL Solar System Educators Program in 2010. Laura also volunteers as a Master Astrobiology Teacher with the NASA Astrobiology Institute and has served as a NASA Jet Propulsion Laboratory Solar System Ambassador Master Teacher since January 2014. She has presented over 2000 public programs under the NASA SSA banner.
Laura creates programming and products for individuals of all ability levels which subscribe to the Universal Instructional Design paradigm. She also provides Universal Instructional Design (UID) professional development workshops to educators throughout the year. Her "No Star Out of Reach" program was awarded the 2013 Challenger Center for Space Science Education Innovation Award.
Laura imparts the wonders of the universe to all audiences and ages and aptly combines space and earth science in all of her programming. She is also available for school assemblies and will deliver programs tailored to your school's curriculum which will serve to compliment classroom lessons. Laura is an avid public lecturer, motivational speaker, and sidewalk astronomer appearing on the sidewalks of Manhattan and New Jersey. The public sidewalk astronomy viewing sessions are free and available to individuals of all ages and ability levels.