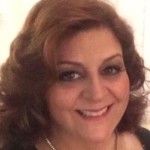 Laura is a science educator and public speaker. She is currently the Principal Park Naturalist for the Department of Parks County of Bergen. She is an avid volunteer and focuses her volunteer efforts on NASA, the American Museum of Natural History, mentoring students, accommodating those with disabilities, supporting veterans, transporting and rescuing wildlife, and exposing the wonders of science to everyone she meets.
A booklet which asks and answers questions about "end of the world" scenarios.
Science lectures developed for a public audience.
Recent talks, workshops, and poster presentations.
Recent Press